Good to have a housemate...
---
Let's start with kneehigh Buffalo boots after the summer break!...
On Sept. 23rd 2013 I had a new chance to get my cock unknowingly flattened by a girl. My wife was on the nightshift and I asked Nancy if she had some time for me and a short clip...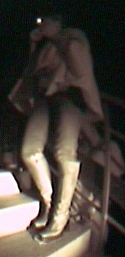 This time I chose very sexy, kneehigh Buffalo leather boots. Nancy already wore them some time ago when her and my wife did a small tomatoe crushvideo.
The boots have a wide square heel, 10cm high, which was already renewed but is worn, with round smooth edges. Nothing to fear...
the sole has a nice slightly grooved profile, but that doesn't get in contact with my cock when she does unknown p-crush on the staircase - it's a pity!
OK, Nancy came down, I got very very excited! She wore a tight Jeans and a warm vest, she looked very sexy! I showed her the boots and she put them on, not knowing that in a few minutes, she would step on my manhood without knowing that! In these moments, I wish I could freeze the time and just jerk off on her shoes...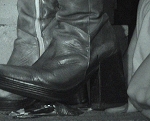 The boots are size 38, which is really too big for her tiny feet (35/36). I made her a warm coffee and we went outside where she lit a cigarette. I placed an empty cardboard box on the staircase and she stepped down, hit it with her left heel and flattened it with four steps. Then she just stood there as always, waiting for stuff to be crushed under her heels...
I placed my tiny cock beneath her left heel and a few steps later, she stepped on my prepuce and flattened it under the heel. She also crushed an empty cigbox, little jars and small plastic boxes. When I placed my cock under her, I told her it was a stiff jelly candy. Otherwise she would wonder one day what is so hard and thick under the heel... ;-)
As the boots were well worn, the heels had not always full contact to the hard floor and she didn't crush my cock too bad. No blood, no haematomas, but a great feeling when she put weight on her heels and pressed the lust out of my glans... Sometimes she dragged her foot forward with my glans under her heel, which was a little thrilling.
She had finished her cigarette and threw it down but didn't crush it under the soles. Still enjoying her hot coffee, she continued pinching my cock under her boots. we talked, she laughed sometimes when she slipped off my glans or my finger, unaware what she was doing to me.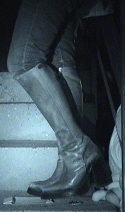 Then she ended the session, went into the living room, put off the boots and went upstairs to her appartment. I took the boots, took a deep breath into them and smelled on the heel. It was a great scent of my cock and I was going crazy! It is such an extreme feeling.
I'm planning our next session, hopefully next week or so, and I think that we will take some flat boots where she can crush my cock between both heels.
Maybe there is also a possibility in the near future to have an unknowing cockcrush with Tamara, then I will take the heavy Buffalo steeltoed boots. I'm sure Tamara will not feel a thing in these hard shoes when she flattens my manhood!
---
First crush-session with Tamara -
preparations for unknowing p-crush...
My plan was to have my cock also crushed unknowingly by Tamara.
So, last week we made some object-crush,
in preparation to have her step on my cock in the near future!

I gave her some very hot Buffalo laced boots with steel toe.
Brutal shoes with hard studded soles...


She was very cool and had fun destroying the worthless stuff under her soles.
I'm sure it will be hard when she crushes my cock...
---
Flattened under her Buffalo platform mules
Last weekend, July 14., I had the chance to place my cock again under her shoes. My wife was away for the evening and Nancy and me were alone at home.
My plan was to use some very sexy Buffalo platform mules, with 4cm platform and 7cm heel. Size 37, if they would have been too large for her, I planned her old NorthFace outdoor boots as an alternative.
She came down around 10:30, it was not totally dark, tried the mules - they fit!! She was barefeet and wore some black track pants.
I hoped that she would wear her shorts or a miniskirt, as it was really hot outside. Her cute heels in these massive shoes made me horny, we went to the staircase and the session began, she lit a cigarette, drank red wine and didn't care for what was going on under her. First, I placed an empty cigarette box beneath her shoes, she crushed it without thinking about it. Then I put my cock on the hard concrete, right behind the hard sole of the heel. She stepped on it with the treaded edge, only the tip of my glans was squeezed under her weight and she caused an enormous pain to me - she noticed nothing of that!
She just continued stepping on the same spot, so with nearly every step she crushed my cock under her left heel.
In between, I placed things under her shoes, she flattened everything careless and not thinking about it.
I had planned some "exercises" with her: I asked her to stand tight together with both heels, then lift both heels. I placed my swollen cock under the heels and then asked her to lower the heels again. My cock was bruised between the heels, extreme pain, then she lifted the heels again but I took my cock out because that was too much. I tried that once again, she pinched my glans under the right heel, slipped off and left a contusion, my cock was bleeding.
She did that all without any effort, talked and enjoyed her red wine.
I recorded this session with two cameras, in nightshot mode. One closeup of the shoes and one where you can see her leg and the shoes. I don't know why, but the full body view was not working.
After 18 minutes, we stopped. To tell the truth: She wore me down, my cock was sore and bloody, the pain was immense.
She went to the table, sat down on a chair, lit another cigarette and took off the shoes. After that she went upstairs to her apartement, I took the shoes and sniffed them - a great scent of warm leather and her divine feet!
My cock really was crushed, two haematomas on the prepuce and painful abrasions on the bruised glans.
I really hope that we can continue soon...



---
She bought some new shoes...
Last week, Nancy bought new shoes: Blue suede XTI stiletto bootees. She told my wife about that some days before, then she got a parcel from an online sportswear dealer. I thought: okay, again some outdoor shoes...
She took the parcel to her room and a some time later I heard her walking around with that typical "heel-sound"...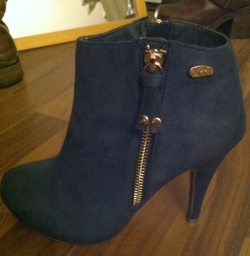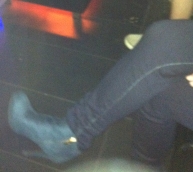 When she took a walk with the dog later, I sneaked in her room and found the shoes... OMG, what hot and sexy stilettos!
The weekend we went clubbing and Nancy came down - klack, klack, klack - she wore her new booties! For driving, she changed shoes (sneakers) and gave the stilettos to my wife. In the club, she wore the stilettos and even danced in them. I didn't know that she could walk so well in highheels! She really looked very, very sexy in her tight jeans and these hot shoes!
When driving home, she changed shoes again and gave the booties to my wife. I sat on the rear seat with Tamara and asked whether I could have a look at the shoes... Still warm and a little wet inside from her divine feet. Tamara was busy with her mobile and I took the opportunity to get my cock in contact with the sharp tip of the heel and the sole...GREAT!
At home, Nancy took the shoes and went to her room. It was a great evening.
Now I really don't know if I would like to have Nancy stepping on my cock unknowingly with these heels!? Sanity says:NO!!! I'm sure that my tiny glans would be destroyed under her heel and she wouldn't even notice it!
But what will happen if I tell her that she should choose some of her shoes for a session and she will choose these? Let's wait and see...
---
Clubbing with hot Buffalo boots...
Yesterday evening we went clubbing, Nancy wore her very hot and well worn Buffalo boots. Like in old times, I took a small penis made from play dough with me, which I placed on the ground behind her shoes when she danced. Just a few steps and she crushed it under her heel, she flattened it without noticing anything! I was very horny and now I plan a crush video with her flattening my cock unknowingly under these boots. I'm sure it will be a challenge for me to be under her hard heels...




When we left the club (she was driving), I placed a little jar of condensed milk behind the car's wheel and when she backed it burst under her tire, she didn't even notice the white spot on the ground - I had a wet spot in my pants!
---
Some thoughts in between...
It's an awesome feeling for me when she towers above me, smokes her cigarette and enjoys her coffee, not knowing that she squeezes my maleness out of my tiny cock. And she thinks that there are worthless things under her which she has to scrunch with her shoes...
The thrill begins long before the sessions: Most times I choose some shoes for her, then I think of what she will do with these shoes, I rub my cock against these shoes, or put it inside. Then I call her, if she has some time. She says YES and I get more excited and wait for her. I wait and I hear her in her apartment above me, the I hear her door and how she comes down the stairs. Then she comes in and I know: Only minutes until she executes her work. I brew her coffee and in the meantime she puts on the shoes. I'm trembling with excitement and then we go outside on the staircase, she places herself and lights her cigarette. At first, she crushes some stuff and after a short time I place my cock beneath her shoes and she crushes it... On average the sessions take around 15 minutes, she grinds the cigarette (always with her right foot), then ascends the three stairs and goes in my living room to take off the shoes. We talk some minutes and I say "thank you for your help" and she goes upstairs to her apartement. Then I hastily check my cock for injuries and take a close look at the shoes and think: Great, my cock is flattened under
these huge shoes, unknowingly by a very pretty girl!

---
Plans for the future...
May 2013: I think about future sessions: Which shoes for which girl? Now it's spring/summer, so some pumps or sandals also would be nice. Sneakers also would be great. If I take the shoes from the girls (their own ones) I have to be careful not to leave marks/blood spots on the shoes. So no light/white shoes!
For Mary und Tamara, I can take some summershoes from our collection, the sizes would suit.

| | |
| --- | --- |
| | Furthermore, a great dream would come true, if my mother-in-law also would step unknowingly on my cock one day. That would be realizable, as she also knows about our "normal" crushvideos... |
---
Small pause and a new camera
March 2013: My wife is at home for some weeks, not fit for work after a surgery. So I can't meet with the girls for a session...
But I bought a new camera (SONY with nightshot mode), for an additional perspective for the clips. That means three camera angles in future. And hopefully Mary and maybe Tamara will do unknown p-crush videos with me this year - that would be great! Every girl has her own way to move her feet, to crush objects. Mary never did crush, so she thinks that she has to give all... So when my cock was under Marys shoes, she really crushed it badly. Tamara also never crushed intentional, so I think she don't know what will happen and also give her best to destroy the "things" under her feet...
I really have to be careful!
---
Number eleven, New Rock boots again.
Jan 9., 2013 - the first session in the new year.
Again with the kneehigh, laced NewRock boots. I really like these shoes, as they have a brutal and hard heel, powerful soles and enough material between my cock and her foot, so that she won't feel anything of what is flattened under her weight...





It seems as she enjoys these meetings with me on the staircase. She is single and don't have anybody to talk to, so she likes it coming down, smoking a cigarette and having a hot coffee.
The contest between my cock and her shoes is very disparate, she will always win and I know that she could easily destroy my cock with a single step.
As her size is normally 36 and most of our shoes that I use have 38 or 39, the shoes are too big for her.
We talked about that in this session, she said that her feet slide forwards in the shoes and that she don't have power in her heels to flatten the things under her shoes...
---
The most extreme boots you can imagine!
Dec. 21., 2012
I really like heavy boots with extreme soles. So for the tenth unknown cockcrush session with Nancy, I chose very heavy Buffalo leather boots with a 4cm platform and 9cm massive wooden heel, extreme tread.
She put them on and was happy to have a hot coffee, lit her cigarette and the torture began.






I used a condom, because I find it very horny to have a condom crushed under a girls shoes. She stepped on my cock and pulled the shoe forward, the condom was stretched and my cock was protected ;-)
She crushed everything under the brutal soles without sensing much in these heavy boots. The condom was crushed by the hard tread, my cock was bleeding and she crushed it flat with every step she made. It was overwhelming, my tiny cock bruised by her divine feet in these boots, simply flattening it without even noticing it under the heel.
We talked, she told me about her day and her holidays she planned. After the session, she left a bloody battlefield on the staircase, took the boots off and went upstairs to watch tv...
---
Cock and fingers crushed, licked her boots...
Dec. 17., 2012 - just one day after the intensive p-crush I arranged another meeting with her. A few days before that, I bought a pair of used Buffalo farmer boots, brown leather in a suiting size 36 for her. I showed her the boots and asked her if she wants to wear them a little bit, maybe sometimes I put little stickers under the soles. She liked them and was very pleased. So I placed empty cigarette boxes, some candy and other stuff on the stair and she began to flatten it...





I didn't put my cock beneath her shoes too much this time, as it still was very very sore from the last day. So I let my fingers crush a little bit by her and I also licked her heels twice. I should do that more often, it's a nice feeling to lick her shoes without her knowing it.
She also stepped on my cock a few times, but it was too painful for me. As she gets slowly into crush, her steps are getting harder with each session, she really wants to flatten the things under her shoes. So I have to be a bit careful, she could easily destroy my penis without even taking notice of it...
The boots are now in her room, she wears them from time to time. Here are more pics and stories of the boots...
---
Unknown cockcrush number eight - it gets harder...
Dec. 16., 2012. With the new equipment, we made another clip. Still cold outside, she came down with her warm clothes, I asked her to take the heavy Buffalo laced boots with steel toe cap. She said ok, it took some time to tie the boots and I really got very excited and horny! She just sat there, put on the boots and I knew that a few minutes later, she will crush my cock under these kneehigh boots with that unbelieveable brutal tread sole.





She went to her place on the step and started the session... As always, she stepped on my cock without taking care, she thinks that there is candy under her heels that she has to crush and smash down...
It was a great session! My tiny cock was pinched under these extreme boots and she stepped on it again and again whilst smoking a cigarette and enjoying a hot coffee!
After more than ten minutes of pleasure and torture, my cock was bleeding and blue...
---
New infrared lamp and a new camera perspective...
Dec. 2012 - I bought a bigger infrared lamp to have better nightshot sight and now use a second camera (pinhole spycam). Much better lighting and with the spycam, you can see her whole body - also interesting to know what she does or where she looks whilst crushing my cock...




The full-body view is perfect! She really don't look down, she drinks her coffee and simply crushes everything under her shoes without thinking about it or taking care.

---
This exceeded my wildest dreams...
TWO girls trample my tiny cock unknowingly!
Nov. 21, 2012: I planned the next session.
My wife was working late and Nancy said that she will go out that night. Perfect for a short meeting before she leaves... She said she will come down later, I promised a hot coffee and waited. A bit later, a friend of her (another girl) came, at that point of time I didn't know who. I got a little upset and angry because I thought that she had forgotten me... some minutes later, both came down and she said that they go out clubbing that night and we can make a short video now. I know the other girl for a long time, a very sexy blond...MARY. Ok, I thought: this evening, Nancy won't crush my cock, but anyway - let's make a video. Nancy said that she will wear her own shoes, no time to change as they wanted to leave directly.
I made two coffees for the girls. First I thought that only Nancy will come out with me for the video, but Mary followed and also stood on the stairway. Both smokers, lit their cigarettes.
I thought: Now or never! And I fumbled my cock out of the trousers and placed it beneath the heels of Nancys boots. And as always, she stepped on it and crushed it under her shoes... She told her friend about our crush-sessions.
Then I asked Mary that she also should do some crush, they changed places. She wore ankle-high wedgeheel shoes and some very hot stockings. She never did crush, so she didn't understand why or how...
There was an empty cigarette box to crush and she really gave her best to destroy it...





My cock also came under her heel, I never thought that it would be that intense! She crushed my cock and my fingers, my cock was really bleeding and the two girls stood above me, laughing and not knowing what was happening right under their sexy legs!
Then they left the scene and went out clubbing... OMG that was such a horny feeling. My cock was still bleeding, sore and it hurt!
I only hope that she will come again, as I asked her if she would do some more "crush" for me...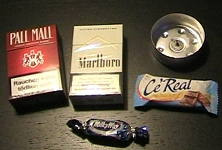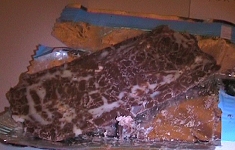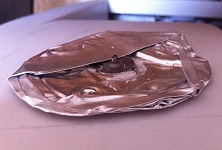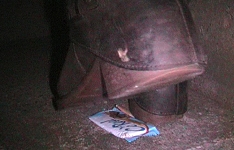 2 empty cigarette packs, chocolate and some thin metal box. The girls flattened everything without any mercy, my cock was in between...

---
A little bit more risk? - Meeting number six
On Nov. 11, 2012 we met again. As usually I called her on her mobile if she has some time for a short clip...
She said yes and came down a few minutes later. It's always thrilling to wait for her, as you can hear her steps in her apartment and on the stairs. Then I know: The executor is coming!
This time I gave her red snake-leather Buffalo boots with a hard heel, 9cm high and around 2x5cm base. I wished a little more risk for my manhood, I wanted to find out how much I can take...





She stood on the stairs with her obligatory hot coffee and cigarette. It was cold outside, she was dressed in warm clothing, a thick coat and a cap. That is good, so she can't look down and see what happens behind her. She hit my cock several times, again with her problem that the boots were oversized for her. Lucky for me, she didn't hurt me too bad (although it could have been a little more...)
---
Buffalo farmer boots, never worn before...
I had to live without unknown p-crush for five months. Our next session (number five) was on Nov. 3, 2012.
I fetched three pairs of boots from our collection and told her that it's her choice. She didn't want to make a selection, so I took the white leather Buffalo farmer boots. New, never worn, with a wooden heel and corrugated sole.





Size 38, no problem for her to put them on. Then we went outside to the staircase. before that, I made a coffee for her (big cup for a longer session) and she had her cigarette.
She started stepping on the spot and I placed my cock behind her heels. What is noticeable: As she is right-hander, she also does more action with her right foot.
As my camera is located on her left side, I mostly put my cock under her left foot. I think she would bruise and crush it more with her right foot.
But what she did to me that evening with her left heel really was enough. A girl who don't know that your cock is under her heel doesn't take care, and when you tell her that she shall crush the things under her shoes, she will do that!
---
Very sexy boots vs. tiny cock in the dark...
Our fourth get-together ;-) was on May. 31, 2012.
This time I wanted to know how it would be to put my cock under boots with not such a wide heel...
So I took brown kneehigh leatherboots, size 39. Really too large for her, but she had no problem with the shoes. As they were too large, she didn't get her weight on the heel, which really was better for me! I think she would have badly crushed my manhood with these heels...





She wobbled a little bit around with the boots (some women do that all the time and I like it).
My cock was really bruised under her heels, although she didn't hit it so often. She smoked her obligatory cigarette and grinded it under the sole. The cigarette stuck at the sole until she took off the boots!
After that session, my glans and prepuce were sore and blue. As always, she didn't notice anything of my pleasure and pain. She said that we can do more "crush sessions" and went up to her apartement. What a girl!
---
Session number three - brutal New Rock boots
The third session was on Feb. 15, 2012. This time she had the choice again and she took the brutal NewRock boots. heavy leather, hard treaded sole and heel. Feared opponent!





She wore her white jeans and looked very sexy, especially from my point of view - I stand behind her, she towers four steps above me. She lit her cigarette and we started the session. We talked a little bit and after a few steps back and forth, she hit my glans with her left heel and flattened it under her divine weight. She crushed it without taking care, without thinking about what was under her shoe. This is what drives me insane: She really crushes my cock unknowingly.
When she finished her cigarette, she just throws it down and grinds it under the sole. Then she crushes my glans once again and leaves the scene...
---
The second set
We had a second "meeting" on Jan. 4 2011.
This time I didn't ask her which shoes she wants to wear but gave her very brutal Buffalo platform bootees. The heels were renewed and never worn, very sharp edges and brutal tread.





It was really extremely cold outside that night, she smoked a cigarette and I told her that she will crush some chocolate and an empty cigarette box. Then I placed my tiny cock right beneath her huge boots and waited... She stepped on it several times, but it didn't hurt that much I expected. She didn't feel so comfortable with these heavy shoes, so she didn't put weight on the heel. Maybe good luck for me...
Nevertheless, it was a great feeling. And as she don't know what is happening under her, she really don't take care...

---
First contact of my cock with her shoes
2008, my wife and me bought a house and moved. We live together with two other girls (our housemates from the first floor). A dream came true, as I have always access to all their shoes and the greatest self-fulfillment is: They both are willing to do some crush for me, they know about our crush-fetish. But they don't know about my deepest fantasies...
Unknown cockcrush with them is only possible in the dark.
I can't blindfold them, that wouldn't work!
Sadly, only one of them is always living in her apartment, the other one is most time at her boyfriend.
One day, I thought: Let's try it.
It was Dec. 27., 2010. My wife was working nightshift and so I asked my housemate if she had some time and would crush some empty boxes and fruitgum under shoes. I took three pairs of boots from our collection and told her to choose one. She took the kneehigh Buffalo boots.
I also told her that we will do the video in total darkness, I have a camera with nightshot-mode.
She didn't ask long and put on the boots. I was near a cardiac arrest!





We went outside on the staircase, it was winter and very cold, she lit a cigarette and stood above me. I told her that she should just step around a little bit without moving, just crushing what comes under her shoes without taking care or looking down...
She is really small, only 157cm high and weighs around 60 kilos. Her shoesize is 35/36. Our shoes are far too big for her (38, 39) but she had no problem with that.
So she towered above me and I fumbled my cock out of the trousers, always looking up to her. She didn't look down, she just stood there, moving a little bit and not taking care what happened behind her.
I told her that there will be a bigger fruitgum under her left shoe and placed my cock beneath her heel and one second later it was flattened under the hard sole of the heel. She felt it and pressed it a little bit under her weight.
That was the first real completely unknown cockcrush for me with a real girl wearing sexy boots.
She smoked her cigarette and continued crushing my cock under the shoes, we talked and she didn't take care what was happening under her.It was great, she didn't notice much, when I asked her she said that the boots are very comfortable and that she don't feel much of the "things" she flattens under the huge, profiled soles!
That was really an extreme moment for me, as I knew that it will happen again!
---
Nancy: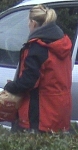 Tamara: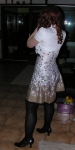 Mary:



Mary is a good friend of Nancy and only comes to vist.
Nancys shoes and what I sometimes do with them...
Tamara's shoes, some pics and some action...